About Richard Gee your seminar leader and coach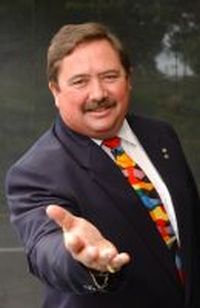 Celebrating 27 Years!! Adding value to your business in your marketing strategies, planning strategies, business development, and staff skills training can be achieved when you invest with Richard "Geewiz" Gee.
In May 1983, I first started my consulting and training business and since then have had the wonderful experience of dealing with many companies and clients and meeting some incredible talented people through the seminars, workshops and conferences.
For the numbers I have completed 9798 presentations, workshops and Conferences, in over 34 different Countries, to over 225,000 people in that time.
From early beginnings of helping people understanding marketing to today where you focus on strategic strategies, brand strategies, and the people who have got to focus on those different marketing choices with a much more complicated media choice and many more options available.
From being a champion of Direct Marketing, data base marketing, to now email and SMS text marketing, the only thing that has changed is the method of contact with the client.
Seminars have changed from 3 and 4 day events to how much information can you fit in in half a day, or could you do a 90 minute key note presentation at a Conference on 1 or 2 subjects.
Many thousands of emails prompted by the 12 month email support, or the 0800 phone support have been fabulous and still continue to motivate, challenge and provide good news for passing other seminars and workshops.
The clients success and I still have many marketing clients that have been with me for over 25 years, the roles may have changed now, the advice maybe different, the contacts maybe less frequent but it is great to be with such fabulous people as they have developed their companies and developed their own staff and sons & daughters now.
I now have the sons & daughters of people who first coming on night school classes with me as the lecturer through to day seminars, through to "I remember you in the Flag Jacket" and could you please pass on the same information to my team.
Along the way I am proud to have completed a number of unique firsts with many clients and also helped to create the Sales & Marketing Institute of New Zealand into what it is today, Diplomas and Degrees in the Polytech system for Sales, Marketing and the different principles of Marketing, programmes and courses that have since been developed to NZQA status, and of course along the way have managed to write a few books on Sales, Marketing topics.
My reasonably frequent comments in Business Magazines, Newspapers, Television continue to build the profile of Geewiz and raise controversy when people do not always agree.
Whether it has been in New Zealand, Australia, India, England, Asia or through the Pacific. The wonderful challenges of getting people to focus on their customers, help them make decisions, "Challenge for Change" and implement my "Better than Yesterday" concepts or 90 Day Action Plans is great.
So where to from here, I continue to keep focusing on doing exactly what I enjoy best, meeting with people and helping them change their minds and strategies either through consulting or through seminars, workshops and speaking.
A great big thanks to all of you who have supported my ideas, read GeeWiz news from its early printed handouts, faxed copies through to the email copies and supported my many challenges, it has been great lets continue on for another 25 years and see how the power that is within ourselves to develop our attitudes and take actions to show our abilities really does make a difference when you focus on it.
Richard Gee has consulted for Marketing Strategies and presented many "In-Company" seminars and training sessions in New Zealand, and other countries.
Australia - Singapore - Malaysia - Pacific Islands, India and over 34 different countries.
Richard has lectured for the Auckland University of Technology, Auckland University, NZ Institute of Management, Auckland Chamber of Commerce, Employers and Manufacturers Association, and Sales & Marketing Institute of NZ, amongst many institutions and industry training organisations.
Geewiz Newsletters are monthly e-news that provides ideas strategies that work today for your business, sales team or marketing needs.
A Quote from Richard....
"I have a very strong and developed background in Sales, Marketing and Management; together with a well proven ability to communicate. I evidence this with the many successful seminars that I've developed and presented.

I draw on my personal experience in the ownership and building-up of companies that are involved in these broad categories: manufacturing for the consumer & home improvement market, distribution of packaging, hygiene, cafeteria and stationery products.



Marketing success based on practical actions that don't cost large $$$ but do get results and you help create what you want to achieve. With over 6000 plus consulting assignments Richard know's how to listen and get your business working better for you and your team

I established this Consultancy in 1983, and since, have been creating Success Strategies for the Business Growth of my Clients.
Many companies and corporations have gained market share, client growth, and strong business bases through use of my innovative ideas and insights to their Business.

An important aspect of my work has been in the securing and rescuing of ailing companies. I can quickly analyse difficulties, develop rescue plans and make the objective decisions necessary to protect investments, shareholders, jobs and futures.
I'm often able to prevent receiverships and liquidations and return a company to secure and profitable activity."



Creative marketing , today business calls for more than basic marketing skills , it takes that knowledge and uses the media choices to best communicate, this is creative marketing taking products and services to the many different distribution channels.
Leadership is showing others their potential and getting belief in the vision, when you and your team work with Richard in consulting or seminars or at conferences you can be empowered to become leaders.
Mentoring Leaders, is about helping managers & leaders achieve results based on experience, not telling but guiding sound decision making and sharing ideas and concepts with a not judgemental thought process. Mentoring is Mostly done face to face and being available for consultation.



Business Plans should be reflective of the goals and resources within your business, how they are created is dependent on the people skills, whether it is a Step by step plan you need or a facilitation to create and build a plan you will with Richard's help get a practical business plan that suits your needs.
Business Ideas either for start up or to rebuild or re brand or export are best created when you understand the marketing forces and distribution channels.
Social websites you will find Richard on:Facebook, Twitter, Linked In, Bebo,UNYK, MY Life,You Tube, Old friends,WAYN, Plaxo,NAymz, Hi 5,Yahoo, Google, Finda,Gmail, Bartercard,Names database, and more as they interest me.

Memberships and Qualifications:
President of Sales & Marketing Institute of NZ
President of Professional Speakers NZ
Member Institute of Marketing
Member Direct Marketing Association
Member Business Network
Member Institute of Quality
Member Chamber of commerce Auckland
Associate Member of NZ Association for Training and Development
Member Australian Direct Marketing Association
President Rotary Club of Whangaparaoa 1993-1994
National Speakers Association
District Chairman Rotary PR Committee 1992-97
International Who's Who of Professionals
Charter Member Rotary Club of Whangaparaoa
Rotary International - District 9910, has named Richard:
Rotarian of the Year. and awarded a Paul Harris fellow and a Sapphire Pin and a Rotary International Presidents Four Avenues of service International award
Rotary International awarded Richard thw World President Citation for Four Avenues of Service
in 2004
Publications and Websites you can find Richard Gee's thoughts and information on.
Magazines and newspapers that I regularly contribute information and articles to:
Marketing magazine
Financial & Business Advisor
New Zealand Business
DLB (Direct Marketing Association)
Sales & Marketing Institute
NZ Herald business pages
Reseller News
B-Innovative (Chamber of Commerce)
Business to Business
Times newspapers
Management magazine
Small Business News
Canterbury Business
Wellington Business to Business
Bartercard News
If you'd like an article, please feel free to contact me.
Websites that you will find my articles and information on:Plus my Blog: richardgee.bloggspot.com
geewiz.co.nz
successful.co.nz
professionalspeakersnz.com
xtramsnbusiness
industria.co.nz
thesmallbusinesscompany.co.nz
salesmarketing.org.nz
businessadvisor.co.nz
itva.co.nz
kinetics.co.nz
businessseminars.co.nz
cecc.co.nz
ema.org.nz



Blogs are a new media for getting noticed across the web and Richard has created and built blogs and understands the skills needed to create a blog that drives people to your website. Check out http://richardgee.bloggspot.com.